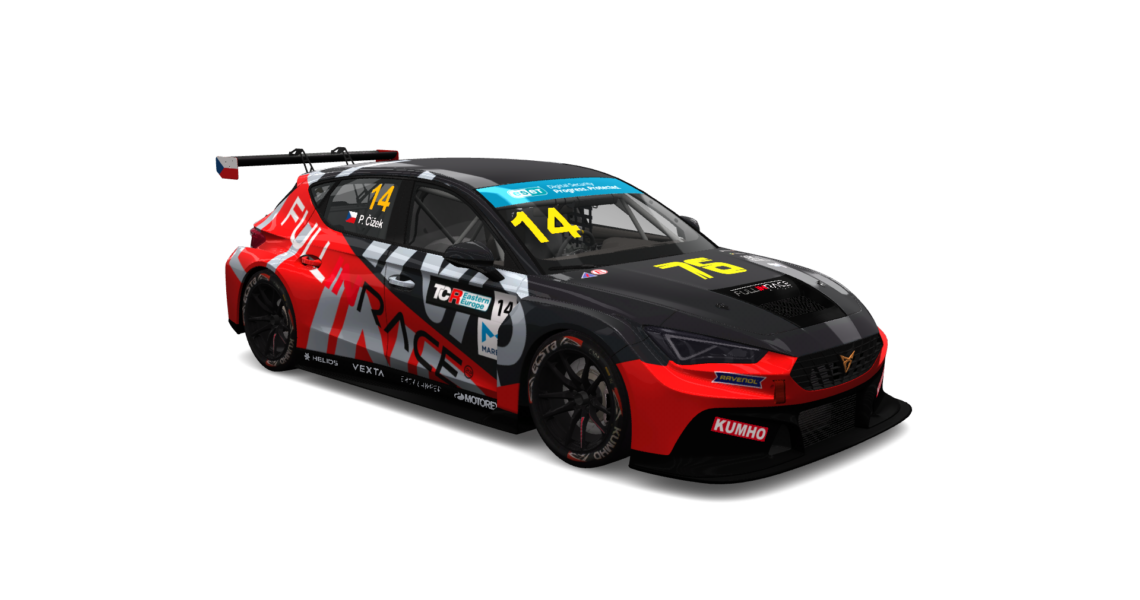 Cupra Leon Competición 2022
December 10, 2022
Version

2.1

Download

5407

File Size

183 MB

Create Date

December 10, 2022
Mod info
Car info
In 2013 SEAT Sport introduced a concept car, based on the third generation of Leon. Initially it was thought that this would be the car in which SEAT Sport would return to the series with full manufacturer team under the new TC1 regulations. However, SEAT Sport announced that the car would be part of the revived Leon Eurocup for 2014.
The Leon Cup Racer then formed the base for the newly formed TCR International Series. The TCR regulations use this car as a template for the aerodynamic portions of the cars. In 2016 SEAT Sport introduced a TCR-spec version of the Leon with the original Cup Racer still being eligible in the International Series as well as national and regional championship utilizing the TCR regulations. Cupra Leon Competición is the latest version of TCR spec car from Cupra (Seat Sport) introduced in year 2020, updated for 2022 season.
source: Wikipedia
About the mod
People who follow our work a little closer know that we are very positive about FWD cars and close metal-to-metal racing not only on virtual tracks, but even in real life. We are in close touch with FULLINRACE Academy racing team almost from the beginning of our existence and our cooperation brought some interesting mods to the AC scene, especially well-known Octavia Cup. As our modding skills are evolving and improving, the FULLINRACE team does evolve as well. Currently they compete in TCR Eastern Europe competition and in 2020 they introduced this new beautiful car from Cupra to the Eastern European racing tracks. We thought it would be awesome to get advantage of it and bring this awesome car to Assetto Corsa simulation as well. So, after couple of months of hard work we are proud to present Cupra Leon Competición 2022 specs to the AC simulator.
This mod is not "vanilla AC compatible" anymore, you need Custom Shader patch 0.1.79 and higher installed! This mod contains slightly improved skins from previous 1.2 version and a lot of new real life TCR Eastern Europe and TCR Europe skins together with some fictional skins.
Installation
Kunos launcher (not recommended):
Download and extract Custom Shader patch to your Assetto Corsa installation directory.
Extract "content" folder from the mod's archive to your Assetto Corsa installation directory.
Content Manager (recommended):
Go to Settings/Custom Shaders Patch and click Install CSP, then update to latest possible version (0.1.79)
Drag and drop the mod's archive to CM window and click install in the "burger" menu.
This "2022" version of the TMM Cupra TCR mod is a standalone mod and won't overwrite the old TMM Cupra 1.2 version!
Special mod features
Extra buttons mapping:
We strongly recommend to map these buttons to get all the extended features of the car (Content Manager/Settings/Assetto Corsa/Controls/Patch:
Extra_A – switch display mode
Extra_B - rain/fog lights
Extra_F – launch control
Speed up/down Wipers
Left/right turn signal
High/low beams
Launch control
Launch control helps with the starting procedure by reducing max RPM to lower value. The LC button needs to be held in order to restrict revolutions of the engine to 5200 rpm and will automatically disengage when car reaches 70 km/h, or when the LC button is released before reaching 70 km/h. If the front wheels are not in working temperatures, slight wheelspin can appear even with LC on.
Recommended starting procedure:
Press the clutch to 100%.
Engage 1st gear.
Press and hold the Launch Control button.
Apply full throttle (revs will be restricted to 5200rpm).
When green lights are on, slowly release clutch with LC button still pressed.
Modulate clutch around the bite point to ensure there is no wheelspin.
When car reaches around 70km/h release the LC button.
Switchable dashboard
Update 2.1 introduces new LUA scripted dashboard with 4 pages (Extra A button):
Race page – default display, used for racing with all necessary racing data and timing
Brake balance page – secondary display with data about brakes, appears with brake balance changes or when cycled trough the pages with Extra A button.
Pit limiter page – shows status of the pit limiter, appears when pit limiter button is pressed (disappears automatically after 2 seconds) or when cycled trough the pages with Extra A button.
Launch control page – shows data for launch control procedure, appears when launch control (Extra F) button is pressed.
Car setup tips
By default, the mod is set to Cupra factory settings with stiffer springs and ARB settings used by FULLINRACE Academy at Slovakiaring track.
When setting up the car, start with front tires temperature and pressure. Be sure that after couple of "installation laps", your tire pressures should be around 31 PSI on both axes. Don't bother with rear tire temperatures, on FWD car rear tires will be always colder than front tires.
When adjusting fuel amount check your ride height and adjust it if needed. Default ride height settings are quite low and when adding fuel, the suspension can go under lowest allowed value. By adjusting the ride height, you can influence overall aero balance of the car.
If the track is fast and does not require extra downforce, we recommend to use values of -2 to -4 on rear wing and 0 on front splitter.
Camber, toe and dampers are set to factory default settings. Camber should be adjusted in a way that the difference between temps of the tire will be split evenly between outer, center and inner part of the wheel. Recommended settings for toe are negative values for front axle (-0 to -0.10) and positive values in the rear (0 to +0.15), according to tire heating and wear. Playing with toe values can influence the turn-in capabilities and stability under braking.
Brake balance range with extended brake physics are now in real range of 50-60%. We recommend to map buttons to increase and decrease brake balance while driving, and adjust it according to the handling of the car and actual conditions on the track. If you are locking your wheels or you feel like the car is not braking enough, you can adjust the brake balance and/or brake power (in range between 80 – 120%). Keep in mind that the mod does not have ABS or TC in factory settings.
Differential preload factory settings are quite low, we recommend using values between 85 – 105Nm.
Skinning and templates:
Templates for skinning are included in "Templates" directory and are in Photoshop (CC 2020) PSD format. Basic body template is provided in 4096x4096 resolution. All textures should be saved in DXT5 DDS format.
Skins from previous version (1.2) are just partially compatible. Body texture can be used with just small adjustment to Cupra logo in rear trunk (logo was removed in 2022 version). External decals and window labels should be fully reworked to new template, they are not split between body texture and windows decals texture anymore. Tire texture mapping was changed as well, you can find all used texture variations in the PSD template.
Credits
Big thanks to SQUIR Team for exterior 3D model, SHR Modding (ACFan) for sounds, thanks to all consultants, contributors and people who encouraged us and helped with feedback and testing and the whole FULLINRACE Academy racing team for allowing us to gather data from the vehicle and to provide us with valuable feedback.
Special thanks to Pavel Gellner for the physics consultations and for providing us with very valuable data, Petr Cizek (FULLINRACE Academy), Bartek Groszek (Aditis Racing) and Maxime Delfosse (Comtoyou Racing Team) for all the help and very valuable feedback about the handling and Kumho tires.
Main people involved in this mod:
Roman "Fuzo" Fusaty – project management, 3D modeling, file assembling, physics
Michal "Weron" Soltes – aero, engine physics
ACFan (SHR Modding) – car sounds
RacingtechCZ – original skins (real + fictional)
Walczu – 2022 skins (real + fictional)
Additional contributors for 2022 version:
• Pavel Gellner – physics and data consulting
• Robert Habinak – aero consulting
• Petr Cizek – testing and feedback
• Bartosz Groszek - testing and feedback
• Maxime Delfosse – handling feedback from Comtoyou team
Do not modify, convert, reupload to other websites or use any part of the physics, 3D mesh, textures or sounds without our permission!
Fixes and updates:
v.2.0
• enabled cphys support for rain physics
• enabled cphys support for brakes
• added dry/wet engine map
• added launch control (mapped to CSP Extra_F button)
• reworked overall aero efficiency
• reworked whole suspension according to more accurate data
• fixed steering angle to match real car steering angle
• reworked tires to match official KUMHO tires specs for season 2022
• added some new details to driver's FOV in interior
• improved exterior materials and material assignment for carbon parts
v.2.1
• added fully LUA scripted dashboard with 4 functional pages (race/pit limiter/launch control/brake balance page)
• reworked internal sound with more accurate samples
• fixed diff setting values for power and coasting
• adjusted clutch MAX_TORQUE to proper value
• small tweaks to tyre model (DX_BRAKE), tyres should be more sensitive to hard braking