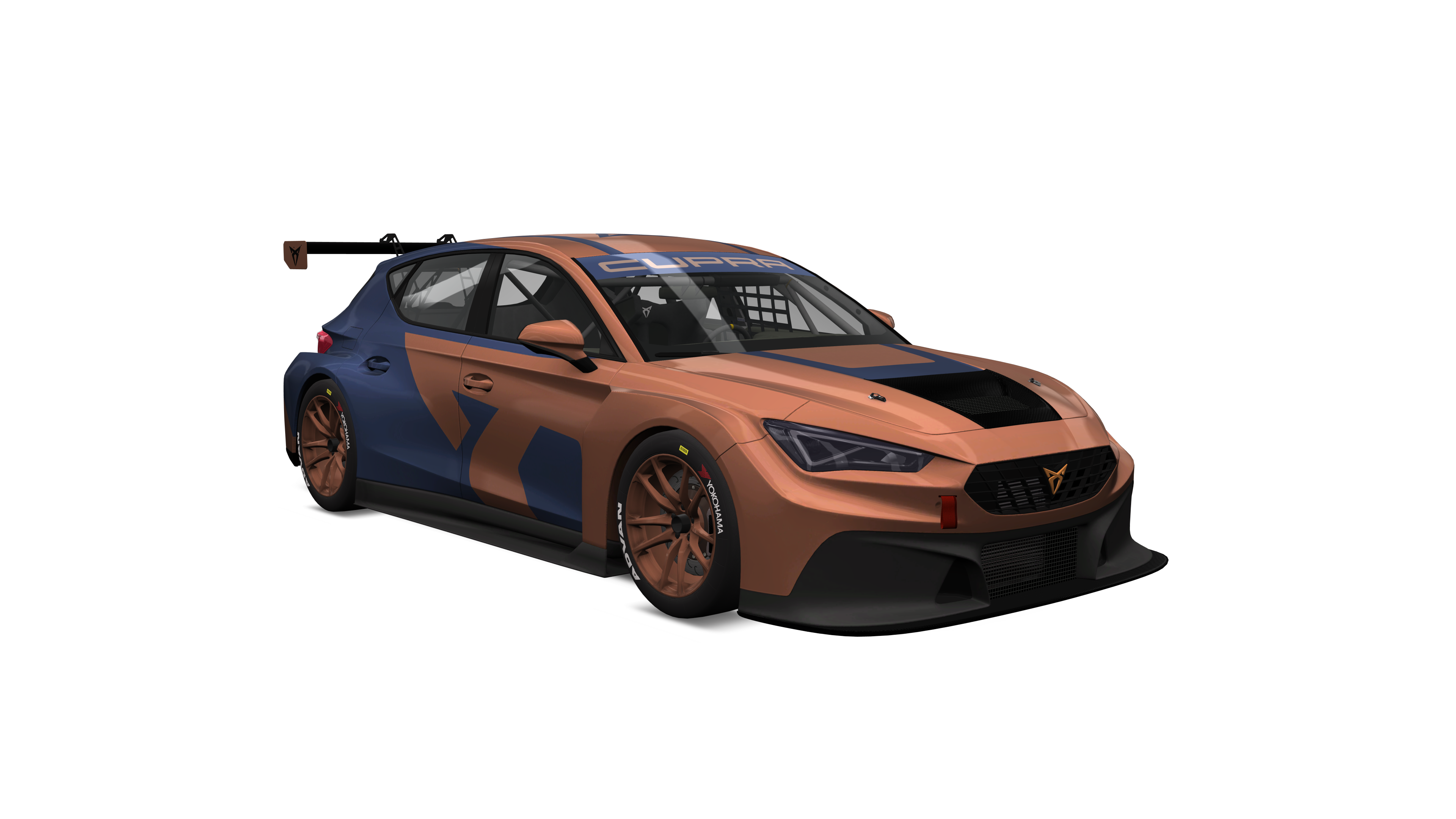 Cupra Leon Competición 1.2
April 8, 2021
Version

1.2

Download

13137

File Size

92 MB

Create Date

April 8, 2021
In 2013 SEAT Sport introduced a concept car, based on the third generation of Leon. Initially it was thought that this would be the car in which SEAT Sport would return to the series with full manufacturer team under the new TC1 regulations. However, SEAT Sport announced that the car would be part of the revived Leon Eurocup for 2014...
The Leon Cup Racer then formed the base for the newly formed TCR International Series. The TCR regulations use this car as a template for the aerodynamic portions of the cars. In 2016 SEAT Sport introduced a TCR-spec version of the Leon with the original Cup Racer still being eligible in the International Series as well as national and regional championship utilizing the TCR regulations. Cupra Leon Competición is the latest version of TCR spec car from Cupra (Seat Sport) introduced in year 2020.
source: Wikipedia
About the mod
People who follow our work a little closer know that we are very positive about FWD cars and close metal-to-metal racing not only on virtual tracks, but even in real life. We are in close touch with FULLINRACE Academy racing team almost from the beginning of our existence and our cooperation brought some interesting mods to the AC scene, especially well-known Octavia Cup. As our modding skills are evolving and improving, the FULLINRACE team does evolve as well. Currently they compete in TCR Eastern Europe competition and last year they introduced this new beautiful car from Cupra to the Eastern European racing tracks. We thought it would be awesome to get advantage of it and bring this awesome car to Assetto Corsa simulation as well. So, after couple of months of hard work we are proud to present Cupra Leon Competición to the AC simulator.
This mod is fully "vanilla AC compatible" but you will definitely get better experience with Custom Shader patch installed. Since this car was quite new last season, we were able to create just a few "real life inspired" skins for the car, but we wanted to provide you with more skins so we added some fictional skins as well..
Recommended settings for CSP users
This car utilizes various features of amazing Custom Shader patch. Config for this car was created and tested with CSP version 0.1.73 but should work on version 0.1.60 and higher as well. CSP provides these features to the mod:
full car lightning support (led lights, high/low beam, turning lights, dashboard functional lights…)
full rain support (working wipers)
enhanced dashboard display
PBR shaders
TyresFX support and more…
To make these CSP features work don't forget to map all buttons in CM/Settings/Control/Patch!
We recommend to use CSP FFB Tweaks to enhance FFB experience with this mod with MacPherson strut FFB adjustments and more accurate gyro implementation turned ON (other settings depend on your taste and wheel you are using).
Experimental features (0.1.74-preview3 and higher Patreon build only!):
This mod is "RainFX" ready. To start the mod with full rain support, check the extended physics checkbox in your CM window in "Drive" menu if you want to try it in single player.
Activating extended physics may affect force feedback by making the steering wheel forces much heavier. You can adjust FFB power directly from the game by pressing + or – key (numeric keyboard) if needed.
Skinning and templates
Templates for skinning are included in "Templates" directory and are in Photoshop (CC 2018) PSD format. This mod takes advantage of CM Paint shop as well, you can use it to create window decals (driver detail) if you are not skilled in Photoshop. Basic body template is provided in 4096x4096 resolution. All textures should be saved in DXT5 DDS format.
Credits
Big thanks to SQUIR Team for base 3D model, SHR Modding for sounds, thanks to all consultants, contributors and people who encouraged us and helped with feedback and testing and the whole FULLINRACE Academy racing team for allowing us to gather data from the vehicle and to provide us with valuable feedback. Special thanks to Reboot Team members for support, testing, funny hotlap challenges and a lot of help with CSP features.
Main people involved in this mod:
Roman "Fuzo" Fusaty – project management, 3D modeling, file assembling, physics
Michal "Weron" Soltes – aero, engine physics, tires tweaking
ACFan(SHR Modding) – car sounds
RacingtechCZ – skins (real + fictional)
Additional contributors:
Pavel Gellner – physics consulting
Robert Habinak – aero consulting
SQUIR team – base 3D model
Petr Cizek (FULLINRACE Academy) – testing and feedback
Miroslav "Fear" Varos – beta testing
Tomas "Bubu" Bucek – beta testing
Juan Caballero - screenshots
Installation
Vanilla AC:
Just extract "content" folder from the archive to your installation folder of Assetto Corsa. For example C:Program Files (x86)Steamsteamappscommonssettocorsa and the mod will be placed to the right place.
CM users:
Just drag and drop the archive to CM window and click install in the "burger" menu.
Please do not modify, convert, reupload to other websites or use any part of it (physics/3D/textures/sound) without our permission.
Fixes and updates:
V.1.2
revised basic setup spring rate values and suspension frequency values (please review your previously saved setups)
added new dashboard page (CSP feature – use Extra A button)
added pit limiter display page (can be overridden by Extra A button)
added fog lights support (Extra B button)
added some new CSP lights and features to the steering wheel, dashboard and button box
V.1.1
fixed minor issues and typos in aero data
fixed misspelled driver's name in Nr. 55 skin
fixed reversed CUPRA logo in some skins
added Nr. 76 2021 season livery and edited Nr. 222 skin to match 2021 season livery
replaced rear brake caliper mesh with new one in LOD A and B
V.1.0