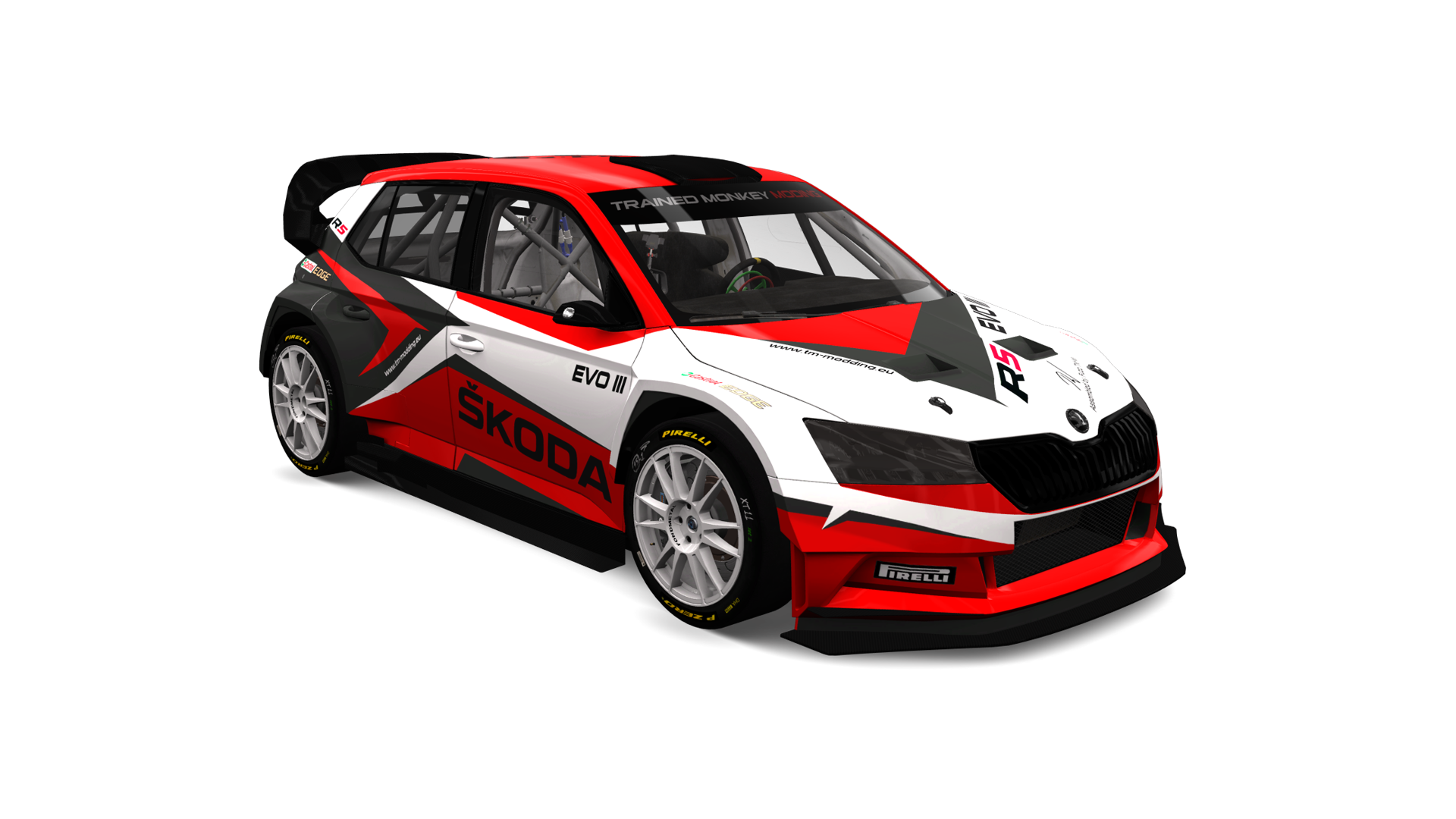 Skoda Fabia R5 DTRi Evo 3 1.0
January 10, 2021
Version

1.0

Download

6135

File Size

0.00 KB

Create Date

January 10, 2021
The Škoda Fabia R5 is a rally car built by Škoda Motorsport. It is based upon the Škoda Fabia road car and is built to Group R5 regulations. It made its competition début in 2015 as a successor to the Škoda Fabia S2000.
The car proved to be very successful in the World Rally Championship-2 class, winning twenty-four events between 2015 and 2017. Esapekka Lappi won the 2016 World Rally Championship-2 drivers title with four victories, Pontus Tidemand won the 2017 championship and Jan Kopecký won the 2018 championship. Škoda Motorsport won the FIA World Rally Championship-2 for Teams in 2015, 2016 and 2017. Starting in 2019, Škoda Motorsport will enter the Fabia R5 in the professional class of the World Rally Championship-2.
About the mod
This mod is our interpretation of hillclimb version of Fabia R5 used by successful Slovak driver Igor Drotar in hillclimb events. We used some real data provided by Igor's team and we utilized our knowledge learned at creating our other mods. It is fun to drive and ready for all tarmac conditions 🙂
Mod history
This hillclimb version of Fabia R5 mod initially appeared at ACCentral.CZ community where the original mod from RallyWorld was "edited" for the purpose of their local hillclimb championship. It was not intended to be shared any further. We were given this mod from them to improve it a little further. In the beginning there were just slight changes done to the base model, but after realizing that the RW version had a lot of issues and missed a lot of features, we decided to create the mod again from the beginning, fixed all possible errors and added some details and features which were present in real "DTRi" version as complete carbon aero kit, new rims, reworked damage textures, improved interior details, dashboard, shifting animations etc. Version "EVO 3" is the complete evolution of this mod, old 3D model was replaced by new one, all meshes were optimized and improved in various areas.
Actual version of this mod utilizes features like:
Fully reworked custom physics by TM-Modding team
Full carbon aero kit occurring in real version
Damageable windows, lights, new damage textures
Fully reworked interior animations and gauges to match real counterpart
This mod includes "Custom Shader Patch" configuration file which enables features like PBR shaders, extra lights etc…
NOTE: Shader patch configuration was created and optimized for CSP version 1.62 and higher!
As our team still misses sound modder, we had to take advantage of sound from Citroen C3 WRC car mod (by Mesa), until we find someone who will be able to create original sound for our mod.
Main people involved in this mod:
Roman "Fuzo" Fusaty – project management, 3D modeling, file assembling, dash and lights settings, AI tuning, suspension physics
Michal "Weron" Soltes – physics, data analysis and testing
Tomas "Lumptom" Hrouda – aero kit modeling
Additional contributors:
Trewor – additional 3D modeling
How to setup and drive this car
This car has a lot of downforce, handles quite well in high speeds. We suggest to set proper gearbox and keep tyres warm. For hearpin curves you can use handbrake if you own one.
Credits
All credits for sounds used in this mod go to Mesa and his C3 WRC sounds and big thanks to all people which were involved in making this mod in all versions.
Installation
Extract "content" folder to your installation folder of Assetto Corsa. For example C:Program Files (x86)Steamsteamappscommonssettocorsa
CM Installation:
Just drag the archive to CM window, go to green "hamburger menu" and click on "Install"
Fixes and updates:
v.1.0