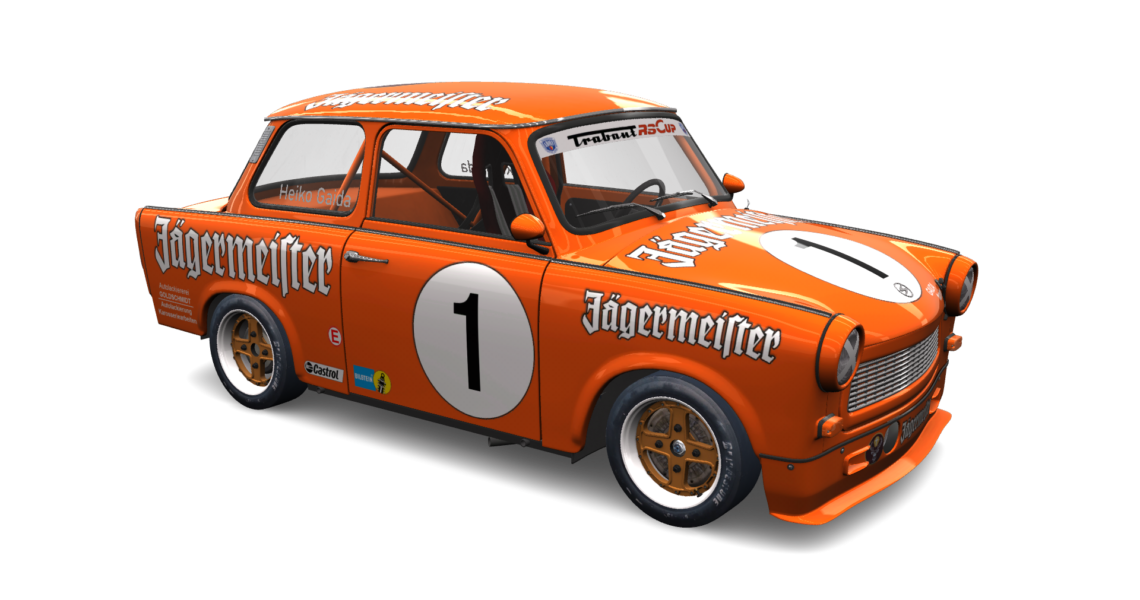 Trabant 601 RS Cup
February 10, 2023
Version

1.1

Download

1669

File Size

109 MB

Create Date

February 10, 2023
Trabant 601 RS Cup version by TM-Modding, version 1.1
This mod represents circuit version of Trabant 601, raced in Trabant RS Cup, DDR Rennsport and Historic Cups across Germany and Central Europe, in specs from season 2022.
The appearance of the actual mod was strongly inspired by David Wehlish's "Jagermeister" version of Trabant RS Cup car (https://youtu.be/8a-4jEStY7U). The mod itself was inspired by the "rf1 to AC conversion" of this awesome little car from unknown author lurking around the AC forums.
This mod was created mostly to pay tribute to the "children of comunism", for people who remember the times when there were long waiting lists for cars like this, exotic fruit was only thing of the bigest Holidays and to get meat for Sunday lunch you had to wait hours in lines...
CREDITS
Fuzo - project management, 3D modeling, file assembling, physics
Fabricio - sounds modding
Kore79 - testing, feedback, data consultation, skins
Walczu - skins
Big thanks to René Köhler (www.simracerz.de) for his involment in the project, his enthusiasm in testing and improving the mod.
Special thanks to Marek Braun from HMC Wünschendorf and Klaus Oßmann from MC Lockwitzgrund for providing very valuable data from the real racing version of the Trabant.
This mod is vanilla AC compatible, no CSP needed to run it, but strongly recommended!
INSTALLATION
Kunos launcher (not recommended):
Extract "content" folder from the mod's archive to your Assetto Corsa installation directory.
Content Manager (recommended):
Drag and drop the mod's archive to CM window and click install in the "burger" menu.
*** WARNING ***
!!! Do not modify, convert, reupload to other websites or use any part of the physics, 3D mesh, textures or sounds without our permission !!!
CHANGELOG
v.1.1
fixed auto shifter
fixed ingame driver appearance for all skins from version 1.0
added hub caps for rear axle
improved AI performance to have more challenging races 🙂
removed redundant rim textures from some skins (fresh install required to remove old files!)
fixed Nr. 6 skin front bumper color
added 3 new skins (Nr. 3, 24, 42)